(English text below)
Ik weet niet uit welke tijd jullie stammen, maar ik heb zowel in de lagere als in de secundaire school nog handwerkles gehad. Er werd door klasgenootjes veel gezweet bij het breien en haken in witte katoen, die katoen zag er op de duur gewoon niet meer uit … Maar ik vond het heerlijk!
Daar dacht ik aan terug toen ik de voorbije dagen een nieuwe workshop zat voor te bereiden. Op donderdag 16 april as trek ik een dagje richting Vlaams Brabant om er in De Wereld van Oz een workshop te geven. En deze keer doe ik dat niet alleen: Els leert ons eerst vilten kralen maken. En ik neem het haakwerk voor mijn rekening, waarbij de vilten kralen mee in het snoer worden opgenomen.
Alle info over de workshop op deze site van De Wereld van Oz. (doorklikken naar workshops)
Hier zijn de voorbeeldjes: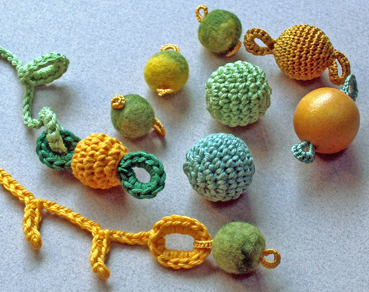 En dit is wat je er eventueel (mits met fijner materiaal te werken) zou kunnen mee doen:
I don't know how it was in other countries in earlier years (and nowadays), but I had handicraft lessons up to the age of 18 at school. Lots of classmates didn't like it. Remember the dirty, deformed white cotton knit- and crochetsamples. Please tell me how it was in your country … would love to hear that from you!

That was what I was thinking of when preparing a new workshop.
I will work together with a friend of mine who recently started a felting workplace. She will first teach us how to make felt beads. Then we will make different crochet beads. And we will use crochet techniques to make a necklace of all the beads we've been making during the day. Looking forward to it!