(English text below)
Afgelopen weekend mocht ik weer één van mijn goeie voornemens voor dit jaar doorstrepen. Ik heb een Etsy-shopje geopend!!
Hier kan je het vinden.
Ik hoop vooral dat ik op die manier meer buitenlandse lezers naar mijn blog kan leiden. En leuke contacten in het buitenland kan opbouwen. Want het blijft toch bijzonder, nieuwe mensen te ontmoeten met wie ik dezelfde passies deel.
Ik geloofde het haast zelf niet, maar na een paar uurtjes verkocht ik al een ring. Aan een Australische architecte/designer die me eerst had gemaild dat ze m'n werk zo mooi vond. En een paar uur later alweer een mail met aankoop en mededeling : 'I could not resist'.
Dus, vandaag na't werk naar de post om m'n eerste pakje op te sturen. Ik woon (graag!) in een buurt met veel nationaliteiten, die je dan uiteraard ontmoet in het postkantoor. Er stond vanavond een Belg die zo nodig keet moest schoppen, vreemdelingen uitdaagde, racistische praat verkocht en niet van ophouden wist. Chapeau voor de loketbediende die de man op een rustige, kordate manier terecht wees met de mededeling dat racistische uitspraken niet worden geduld in het postkantoor en dat ie anders maar naar buiten moest gaan.
En daar zat ik dan met m'n pakje, m'n liefde om nieuwe mensen over de hele wereld te leren kennen. Lang leve o.a. Etsy die me deze mogelijkheid biedt!
En welk seizoen geeft ons de meeste hoop: de lente!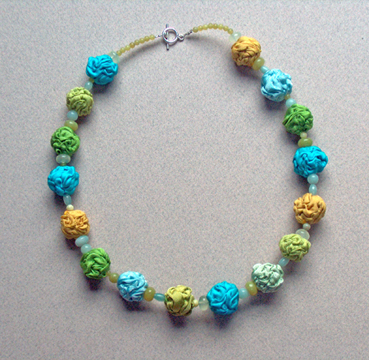 Ik vertelde al dat ik met een nieuw thema bezig was, de vier seizoenen. Ik heb al een snoer voor elk seizoen. Vandaag krijgen jullie de lente te zien. Ook al heeft het vandaag gesneeuwd, hierbij de veelbelovende warmte van een snoer in lentekleurtjes.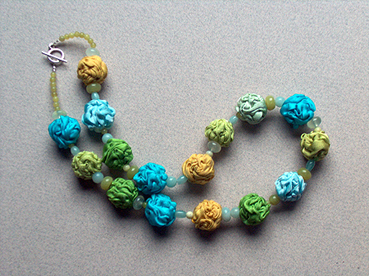 En ik maakte er ook maar onmiddellijk een ander snoertje bij in precies dezelfde stofjes.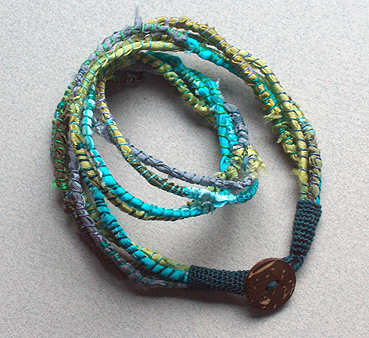 Meer foto's volgen later wel. Na mijn bezoekje aan het postkantoor, werd het al snel weer te donker voor meer foto's.
Last weekend I finally opened an Ets-shop. You can find it here.
It's my sincere hope to guide more foreign readers to my blog.
I could hardly believe it myself, but I had a sale after a few hours. A very nice Australian lady who had first mailed that she liked my work a lot. A few hours later, another mail with the message 'I could not resist' 😉
So, after work, I went to my local post office to ship my first package. While I was waiting my turn, there was some tension amongst the clients. One (Belgian) customer was talking racist things towards to other nationality clients. Luckily there was anpost officer who tried to calm this man down, stating that racist commentary was not tolerated in the post office.
What a contrast, me with my happy feeling to learn to know new foreign people and then that man…
So, let's finish this blogpost with pictures of my 'four seasons' necklace for the spring season. Let these springlike colours warm your heart.

I will post more pictures later on. But, after my visit to the post office it became dark too quickly to take more pictures.

See you!