(English text below)
Soms vragen bloglezers mij wat informatie over snoeren die ik reeds vroeger haakte. Ik ben nog altijd blij dat ik een paar jaar geleden de moeite heb genomen om al mijn werk te fotograferen en te ordenen op de fotopagina van mijn website. Leuk voor mezelf dat ik deze 'portfolio' heb en ook leuk voor nieuwe lezers die zo mijn evolutie eens kunnen bekijken.
Voor wie mijn fotopagina nog niet ontdekte: klik hier om van start te gaan (mijn werk staat gerangschikt per jaar).
Jannette had haar oog laten vallen op een snoer met allemaal oogjes. Gewoon daaraan herinnerd worden, deed me al zin krijgen om er nog eens eentje te haken. En, zoals zo vaak, greep ik weer intuïtief naar herfstkleuren (ik ben zelf een herfsttype).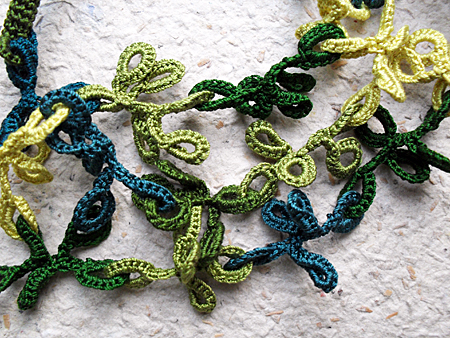 Jannette is een zomertype en dit snoer is voor haar: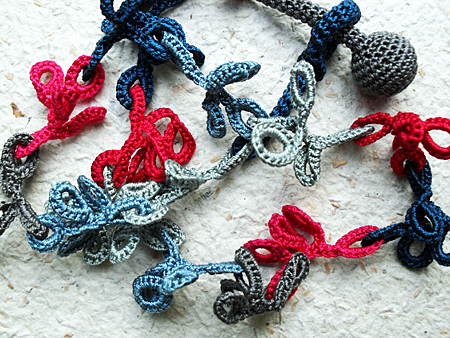 Sometimes people inquire about work I made before. I'm still happy that once I invested quite a lot of time in photographing all my work and organizing it in some kind of portfolio.
For those who haven't discoverd the photo-section of my website: click here. All my work is presented by year.
Because of Jannette's question, I loved to remake a design of some years ago. First I made one in automn-colours (I'm an automn-type myself). Afterwards I made one for Jannette, who's a summer-type.